GRP Flat Roofing
GRP Fibreglass Flat Roof Specialists
Are you interested in a Fibreglass Flat Roof? If so we can help, we are specialists in GRP Flat Roofing. GRP is one of the most popular flat roofing systems in the UK.
"GRP Flat Roof" and "Fibreglass Flat Roof" are terms which are often used interchangeably.
The reason for this is a GRP roofing system is made up of Glass Reinforced polyester (this is where the term GRP flat roof comes from).
Glass Reinforced Polyester is a composite material which is created by strengthening plastic with fine fibres made from glass (this is where the term fibreglass flat roof comes from).
Fibreglass Flat Roof Cost
The cost of a fibreglass flat roof will vary depending on many factors. These factors include: the roof size, the roof specification, the build-up and the required roof finishes.
Let's look at how the cost of a fibreglass flat roof is influenced by these factors. The best way we can do this is to look at the construction of a GRP Flat Roof.
Fibreglass Flat Roof Construction Process
Fibreglass flat roof construction is safe, simple and effective. The finished product is both aesthetically pleasing and long lasting. Coming with long guarantees.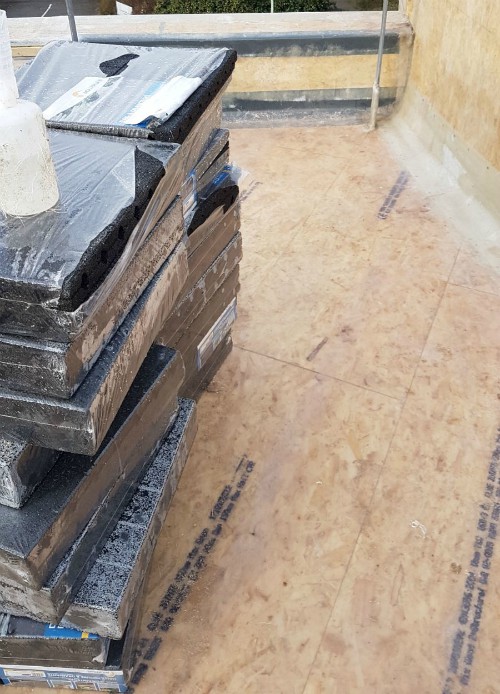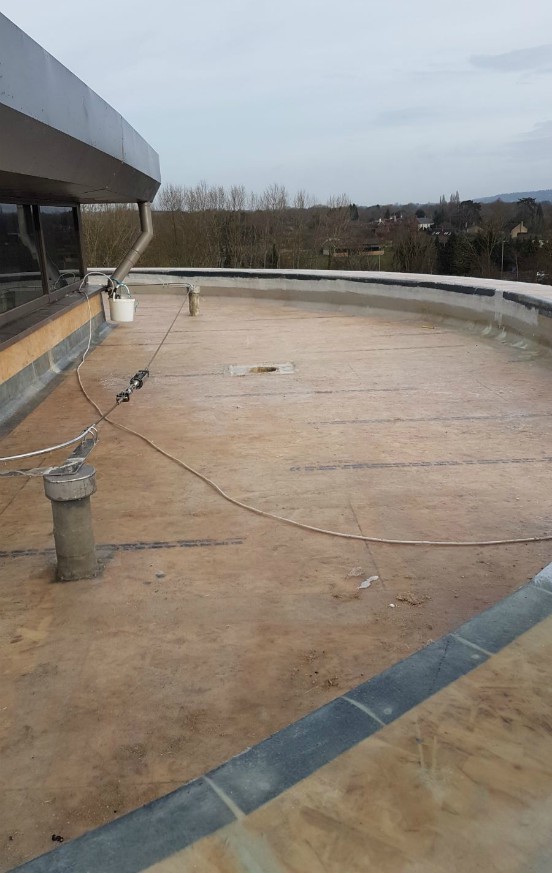 GRP Flat Roof Construction Details
New Build Roof with Standard 15 to 20-year Guarantee
First, we would need to install 18mm OSB Board to the roof rafters/overboard (if applicable) to the current roof surface.
Next, all trims and flashings, will need to be installed. If the OSB board is not T and G, a strap joint will need to be placed over every board joint.
The roof is then covered with a 2-part resin/450g matting(CSM) with a topcoat UV added this cost would be about £65 to £90 per square metre depending on the size of area being covered.
When calculating the cost of a fibreglass flat roof it is important to consider all factors. This includes whether the roof has insulation.
If this is not the case the build-up will have a sub-deck (normally 9mm), then a vapour control check layer is added (VCL), counter battens for air flow (depending on the specification) then (120mm insulation rigid), this cost for the roof build-up will be around £45 to £60 per square metre.
So, the total roof cost from joist to roof finish (without fascia, soffits, gutters) can be around £110 to £150 per square metre.
This would be the typical cost of a fibreglass flat roof.
The cost can be higher than this if there is more complex detailing, special finishes to areas such as balconies and higher specified guarantees.
Longer Guarantees Increase the Price of a Fibreglass Flat Roof
Also, the cost of the flat roof will be higher if longer guarantees are required. For instance, a 30-year guarantee will require an additional coating of resin over the 3-part build up. Without this additional coating, the 30-year guarantee cannot be issued. This extra layer will cost anything from £10 to £15 per square metre.
Balcony detailing will need a higher-grade chop stranded matting that is embedded into the resin. The reason for this is for foot traction. This higher grad chop stranded matting is also found on walkways.
The chop stranded matting(CSM) for this traction coating is 650g thicker than standard CSM. This is because a lot more resin is required to soak into the matting. Once this coating has cured, UV protection coating is added and traction chippings are broadcasted over the wet area.
This is then left to cure and recoated with UV protection coating (if required); this cost would be an additional £8 to £15 per square metre.
Let's look how the cost of a GRP flat roofing system is impacted when a 40-year guarantee is required.
GRP Flat Roof Cost with a 40-year Guarantee
A flat roofing system with a 40-year guarantee, will consist of an extra 3 layers. One of resin, then CSM and then finally another layer of resin.
The cost of this uplifting would come out at £12 and £20 extra per square metre when compared to 20 to 25-year flat roofing system.
Additional Costs for GRP Flat Roofing with Longer Guarantees
In addition to the costs of extra layers for longer guarantees there will be other additional costs. These costs will be for the stripping up/cleaning of the existing waterproof coverings.
In general, these costs will be between £7 and £15 per m² for each waterproof layer. This is dependent upon the access to the roof when the debris is cleared away from the site.
When these costs are compared to other roofing systems in terms of cost per year of service I'm sure you will agree the cost to install a fibreglass roof is very competitive within the roofing marketplace.
GRP Flat Roof Cost per m2
If you want to learn more about fibreglass roofing costs on a per square metre basis please check out our GRP Roofing Cost Calculator.
Some Factors Influencing the Cost of a Fibreglass Flat Roof
• Roof Size
• Roof Specification
• Build Up
• Complexity of the Installation
• Roof Finishes
• Guarantee Length
What is a GRP Roofing System?
A GRP roofing system is a flat roofing system that has been available to the general market and tradesmen for more than 30 years. It is a fully integrated seamless system where all the components are designed to work together.
Fibreglass Flat Roof Systems can be Applied to Virtually any Substrate
GRP flat roofing can be applied to virtually any type of roof build up, including vertical details such as mansards, dormers, sloped roof or parapet wall details. GRP as a roof system can be used for walkways, balconies and is very robust and the roof system comes with a BBA certification, meaning that the roof systems has gone through rigorous testing.
The GRP system can also be used for water contaminant which are sometimes used on roof gardens and as the GRP system is completely seamless it can be used as green or brown roof gardens. Different GRP manufacturers specify different build up within the systems, some can be used as an overlay system with the correct primer, these can overlay current mastic asphalt, RBA (felt), concrete systems. With wall reinforcement and flashing details, this will make the system aesthetically pleasing.
A GRP Flat Roof System is Virtually Maintenance Free
The system is virtually maintenance free and can come with any paint (UV) protection finish. Some of the main UK based GRP manufacturers are Rhino, ProGRP, Topseal, Ultraflex, Scott Bader, Cure-It and Polyroof. As technology grows so does the durability of some of the more modern systems like Polyroof, these are not only highly flexible but the need to return to the project to apply the UV coating has long gone, due to the built-in UV protection coating in with the liquid coating.
This not only creates a faster application but also creates on larger projects a cost reduction. It's safe to say that GRP Roofing systems not only looks superior but also the system has the history to last the test of time.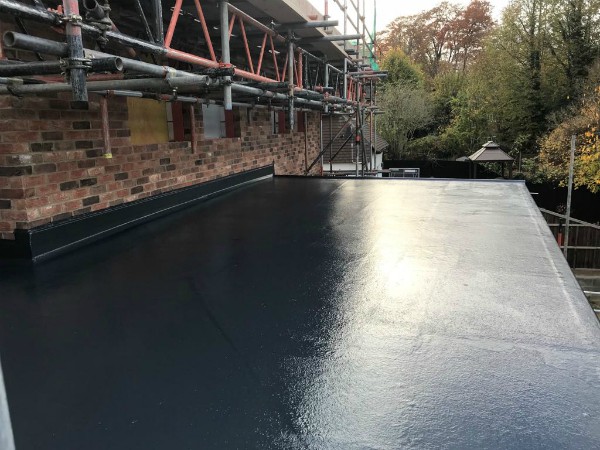 Frequently Asked Questions about Having a Fibreglass Flat Roof
Are Fibreglass Roofs Noisy?
Yes, fibreglass roofing can be noisy. The reason for this is thermal banging, this is where moisture heats up under the system and you can get expansion and contraction. This is the same reason you see gutters cracking and moving. To prevent this, you need to make sure that not only the boards are screwed to the insulation but also glued.
How Long Does a Fibreglass Roof Last?
A fibreglass roof can last up to 40 years. Different systems offer a range of guarantees, this depends on the number of layers and the CSM thickness. All fibreglass roofs can be guaranteed for at least 10 years. With the maximum guarantee being up to 40 years.
Is Fibreglass Good for Flat Roofs?
Fibreglass is good for flat roofs. A fibreglass system is one of the leading roofing systems used for domestic flat roofs. Recently fibreglass flat roof systems have been used on commercial jobs over 60m². The cost of a fibreglass roof can range from £70 per square metre for a basic rear roof without insulation up to £140 per square metre for a warm deck roof.
Why do Fibreglass Roofs Crack?
Fibreglass roofs crack primarily due to the GRP being applied to the wrong boarding. This is because fibreglass is a rigid product. Any movement or pressure to the surface will cause a crack on the substrate.
How Do You Clean a Fibreglass Flat Roof?
You clean a fibreglass roof with soap and water. Alternative ways of cleaning a fibreglass flat roof include using a brush or jet washing the roof with a low pressure.
We Undertake all Types of Fibreglass Flat Roofing Projects
From a large commercial flat roof to a small garage flat roofs and repairs, Guaranteed GRP are happy to assist you with all aspects of GRP/fibreglass roofing.
If you need any assistance with a Fibreglass/GRP flat roof, please get in touch with Guaranteed GRP or call us now on 0208 702 8063 one of our GRP specialists will be happy to help.