Common Fibreglass Roofing Problems
Some fibreglass roof problems repeatedly occur on GRP flat roofs. This article is going to take a detailed look at these common problems. Why they occur and how they can be rectified.
Fibreglass roofing is made up of Glass Reinforced Plastic which is why it is sometimes referred to as GRP roofing. It has become an increasingly popular flat roofing system in the UK especially for domestic properties.
The Most Frequent GRP Flat Roof Problems
GRP Roof Cracking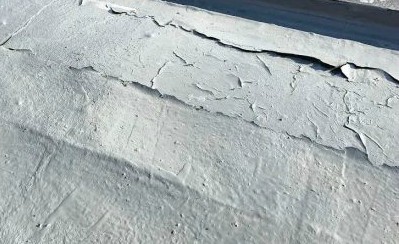 What causes a GRP Roof to Crack?
A common problem encountered with a GRP roof is the flaking and cracking of the top coat.
The main reason for a GRP roof cracking is due to the roof being poorly installed.
During the summer months, heat causes the fibreglass roof to heat up during the day and expand. Then in the evenings as the roof cools back down it contracts. This is called thermal expansion. And the movement which occurs during this process of thermal expansion can cause the GRP roof to crack open.
The reason for this is there is no space between the perimeter edges and the Boards. This leads to cracks becoming visible along the surface of the fibreglass roof.
How to Fix a GRP Roof Suffering from Cracking?
The best course of action is to replace the area which is affected by the cracking. This is done by cutting out the affected area and adding new fibreglass along with resin and a top coat. It is important to make sure this is correctly installed this time to avoid the same problem occurring. The best way to ensure this installation is done correctly is to use an accredited GRP roofing contractor.
Alligatoring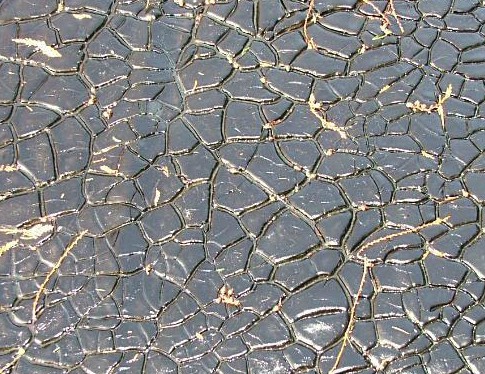 All roofing systems have a life expectancy. When a GRP roofing system reaches the end of its lifetime, the system begins to lose its elasticity. Once this happens it is common to see the roof looking shrivelled and cracked much like the skin of an alligator hence the term.
Unfortunately, if your roof is suffering from alligatoring in nearly all cases the solution will be to have a roof replacement.
Pinholes in a Fibreglass Roof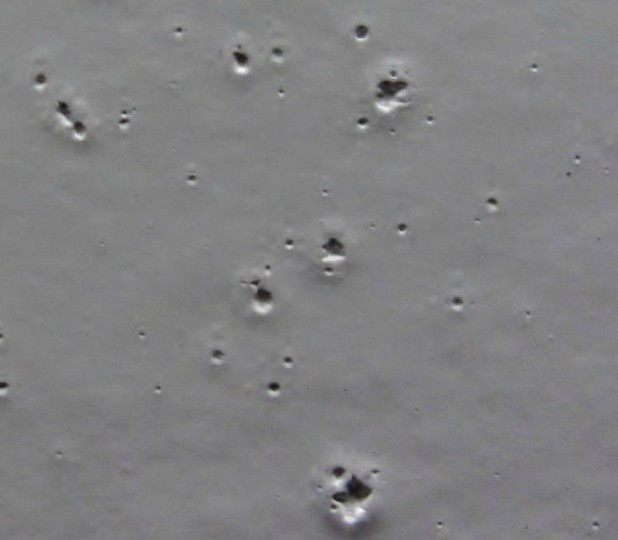 What are Pinholes?
Pinholes are small holes in the surface of the roof. They are like small pinholes hence the name. It is difficult to identify pinholes on a GRP roof without looking closely at the roofs surface.
What Causes Pinholes on a GRP Roof?
Pinholes occur because not enough top coat has been applied to the roof during the installation process.
Why Pinholes are a Fibreglass Roofing Problem?
Although pinholes may seem harmless due to their size, they can lead to water ingress during times of rain and high winds. This in turn leads to leaks into the property the GRP roof is supposed to be waterproofing.
How to Fix Pinholes?
The problem of pinholes in a GRP flat roof can be remedied by applying fresh resin to the pinholes. This will seal them and stop any further problems developing.
Ponding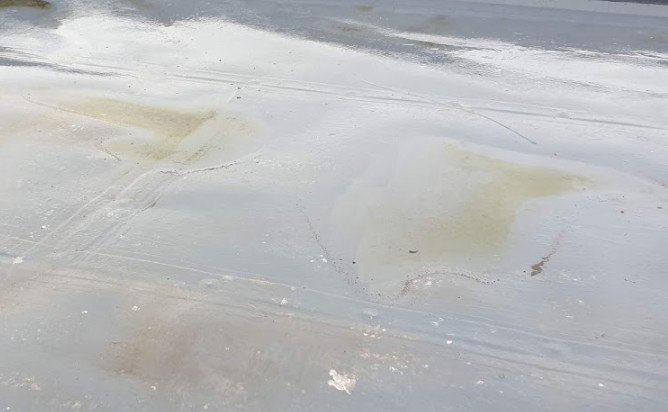 Ponding is when large pools of water appear on a flat roof. When this happens on a GRP roof it can result in problems such as leaking. You may not spot large pools of water on your roof but you may spot the tell-tale signs they have been there. These signs are patches darker or lighter than the rest of your roof, with a dirt stained ring around them.
If you have an issue with ponding contact a specialist GRP roofing contractor as soon as possible. This problem cannot be easily fixed by applying another layer of GRP coating as the top coat will be too thick and crack. The solution will be to board the roof with firrings.
Fibreglass Roof Leaking
How are Leaks Caused in a Fibreglass Roof?
Cracks in the surface of the roof will lead to water ingress, these cracks are created if the roof has not been installed properly.
How to Fix the Leaks?
If possible, place yourself or a surveyor on the roof roughly below where the leak is in the property. Once at the right spot, locate any visible cracks or pinholes to confirm where the water is entering from. A good way to help locate the point of ingress is to spray a hose pipe over the potential entrance point on the roof and see if the leak goes in size inside the house. Now that the entrance point has been located, the area of the roof should be sanded down, with a resin coating to follow. Lastly a topcoat needs to be applied (this topcoat should be in the same colour as the original roof).
Guttering
GRP Flat roofs like any other roof need to be taken care of and be maintained properly. Like all flat roof systems gutters are prone to be blocked and need to be regularly cleaned. In addition to this it is advisable to regularly sweep your roof to clear the build-up of any debris such as leaves and dirt. The reason for this sweeping is to prevent the debris trapping water causing a build-up in water which can lead to problems such as leaking.
If you are still having problems after cleaning your gutters and sweeping your roof it may be wise to contact a roofing professional and inspect whether you need a new guttering system.
Noise Problems with a Fibreglass Roof
What Noise can you Expect to Hear from your Fibreglass Roofing?
Common noises which can be heard from a fibreglass roof is the sound creaking and cracking.
Why do these Noises Happen?
The reason that such sounds can be heard from your fibreglass roof is because of the weather. The temperature is a big factor, especially during the summer months. Thermal expansion of the roof is caused when the roof gets heated up for many hours during the hot summer days and then cools down throughout the nights. This process is normal and are bound to happen with fibreglass roofs.
How do you Fix the Noises from your Fibreglass Roof?
Even though this is a normal thing within the lifespan of fibreglass roofs. The noise can be reduced by special expansion joints that can be added, when the roof is being installed. These joints help with flexibility of the fibreglass, meaning the roof won't creak at much during the hot weather as there will be less strain during the thermal expansion.
Preventing Fibreglass Roofing Problems
GRP roofing is an excellent flat roofing system. And the problems above will only occur for three reasons:
1. The fibreglass roof is at the end of its life span.
2. The roof hasn't been properly maintained.
3. The roof was not installed correctly.
The key thing you can do to minimise the chances of any problems you have with your fibreglass roofing is to ensure the roof is installed by a specialist GRP Roofing contractor (this prevents problems occurring and maximises the life expectancy of your roof). And it is also vital to perform regular maintenance such as gutter cleaning and roof sweeping to keep your fibreglass roofing operating at maximum efficiency.
If you have any fibreglass roofing problems you want to discuss or need a GRP roofing survey please get in touch with one of our friendly team of GRP experts or call us on 0208 702 8063.
If you would like to learn more about GRP Roofing our blog is full of information.
Common Faults of GRP Roofing